Don Rickles
Mr. Warmth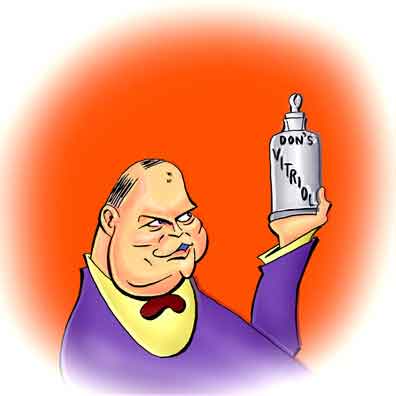 The author and illustrator of CooperToons has a confession to make.
He has never been a great fan of Don Rickles.
That is, not a fan of Don's stand-up comedy. Oh, sure, it can be humorous enough, particular since he clearly doesn't intend you to take his barbs too seriously. But like hot chili peppers, it's best sampled in small bites.
On the other hand, it sometimes seems to be forgotten that Don was also an actor of merit and appeared in many television shows - like his own series Sharkey CPO and films - such as Kelly's Heroes. One of his best guest performances was when he played one of Maxwell Smart's old army buddies in "The Little Black Book" from the old Get Smart series. Since it was hard to keep the two Dons - Adams and Rickles - from ad-libbing, the show expended so much film that the episode had to be aired in two parts.
Don would sometimes guest-host for the Tonight Show with Johnny Carson. Although he adopted his usual persona, actually he was extremely nervous about it and was always afraid his appearance would be a disaster. But according to Ed McMahon, Don needn't have worried.
On one of his guest stints, Don accidentally broke Johnny's cigarette box which Johnny had had for years. Johnny didn't discover what happened until he was on camera. Doc Severinsen (Ed was off that night) explained what had happened. Johnny took a microphone and was followed by a mobile camera as he walked across the hall to the studio where Don was in the middle of filming an episode Sharkey CPO. The (quite funny) confrontation was broadcast live.
But Don didn't always play comedy. For instance, he played a villain on one of the more sombre episodes of the Wild Wild West. This was "The Night of the Druid's Blood". Don - sporting a bushy mustache - plays an evil stage magician named Asmodeus who is in cahoots with the wife of a US senator, Astarte, (played by Ann Elder) and the senator's personal physician, Dr. Tristam (played by veteran character actor Rhys Williams). Asmodeus's and Astrate's and Dr. Tristam's evil plan is (of course) to take over the world. The senator is not aware of the conspiracy unfolding around him and only learns of it when Jim foils the evil plan.
If you watch the show carefully, you can see that when Jim and Asmodeus get into a physical altercation where Asmodeus threatens to skewer Jim with a spear, they switch to a stunt double for Don (at the time, Robert Conrad did his own stunts). You suspect that finding a double for Don wasn't easy, and the mustache was a necessary prop. But the double still doesn't look that much like Don.
The mustache also produced a bit of problem in continuity. In one scene Asmodeus whacks Jim on the head, and Jim falls to the floor. But before fading to a commercial, the camera cuts back to Asmodeus, and you can see the mustache is peeling away from Don's lip. Of course, budgets for early television shows were surprisingly low compared to today. Costs for a 1 hour show in 1965 could be about $20,000 although westerns tended to be more on the pricey side. But re-shooting a scene was a luxury directors sometimes had to forgo. There were at least two episodes where it is blatantly obvious that Jim tore his pants. And even those scenes weren't reshot.
Don portrayed Asmodeus as a smarmy, conniving, and yet strangely insecure villain. The show, though, is not one of the better Wild Wild West offerings and has without doubt one of the lamest and most ridiculous endings in the history of the series - or any other TV show for that matter. But we will not spoil it for the readers who have yet to see it.
References
"The Night of the Druid's Blood", The Wild Wild West, 1966.
"Don Rickles Recalls His 'CPO Sharkey' Days", Dave Itzkoff, The New York Times, May 15, 2015.
"Ed McMahon - Television Archive Interview", Michael Rosen, Archive of American Television, 2002.
"The Little Black Book (with an Introduction by Barbara Feldon)", Don Adams, Barbara Feldon, Edward Platt, Robert Karvelas, Jack Hanrahan (writer), Phil Hahn (writer), and James Komack (director), Get Smart - The Complete Series, 2008, (Original Air Date, January 27, 1968), Internet Movie Data Base, TV.com.
Dear Papa, Dear Hotch: The Correspondence of Ernest Hemingway and A. E. Hotchner, Albert DeFazio III, (Editor), University of Missouri Press (2005). In one of his letters Hotch provides Ernest an itemized list of costs for a production of a television show. Although this was from 1950 - a decade and a half before the Wild Wild West went into production - it is still a surprise to see the low cost of the payment for the cast. Given that some television actors today get tens of millions of dollars per season we can understand why compared to shows in the 1960's, there are now 10 to 15 minutes more commercials in a - quote - "one hour show" - unquote - and why the cost of a commercial has gone up two orders of magnitude.
Return to CooperToons Caricatures