Mississippi John Hurt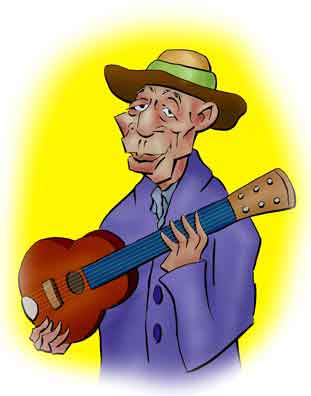 John Hurt was born in 1892, in Teoc, Mississippi and later moved to Avalon about five miles away. Both towns are near Greenwood, the county seat of LeFlore County.
As a teenager John took the only jobs available, working on the farms and the railroads. For enjoyment, John played guitar and sang. His playing and singing garnered him a local reputation, and in 1928, a local talent scout for Okeh Records heard of John. He persuaded John to travel to New York. John cut six records and then returned to his home, the fields, and the railroads. That, figured John, was that.
Except for those recordings. Unaware to John, they become recognized by folk musicians and musicologists as probably the only record of a unique and historically important style of blues playing. Then nearing seventy, John was surprised - and not a little alarmed - to find a stranger banging on his door asking him to pick up his guitar again. To learn how this meeting turned out, you can, if you wish, just click here.
Return to CooperToons Caricatures