Patty Berg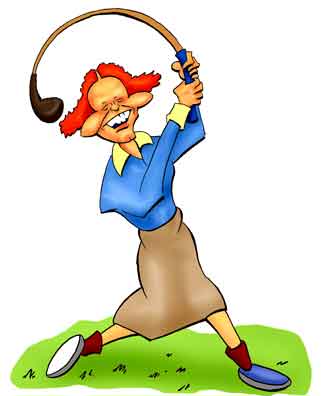 Patty Berg
Quarterback with Bud
The story was that Babe Zaharias would walk into the locker room before a golf tournament and shout, "What did you all show up for? To see who comes in second?"
Alas, there were some times that one of the Babe's competitors was Patty Berg. The two ladies - at least as the story goes - were even paired up in one tournament, and as the play continued, Babe was loosing to Patty. Some clouds rolled up, it sprinkled a little, and Babe stormed to the clubhouse and demanded the daily round be canceled because of the weather. Although the course was still easily playable, the officials were afraid of the Wrath of Babe (she had become one of the biggest tournament drawing cards) and agreed. Patty was so ticked off that she vowed she would, by God, win the next day's round (and the tournament). She did win, but from what we read, Patty and Babe were actually pretty good friends - we think.
Actually a lot of people point out the plethora of sports Babe played, but Patty also enjoyed a catholicity of competitiveness. She was a champion skater (placing second in the National Junior Speed Championship), but from what she later said, it seems that when she was growing up in Minneapolis she preferred playing quarterback for her neighborhood and otherwise all-boy football team. One of her teammates on the 50th Street Tigers was a young Charles Burnham Wilkinson, whoever he was. But when Patty turned sixteen, her mom suggested that contact sports were not quite proper for a young lady and her dad got her a set of golf clubs.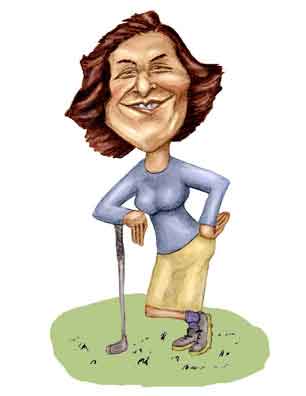 Babe
Good Friends - We Think
The sources are contradictory whether the University of Minnesota had a Ladies Golden Gophers Golf Team when Patty enrolled (independent research indicates they did not). But she was on the amateur team that won the the Curtis Cup in the mid-1930's. Then Patty won the US Women's Amateur outright in 1938. As we all know, this is usually the penultimate step before turning pro which Patty did in 1940.
Contrary to popular opinion, in 1940 there were professional ladies golfing associations although not yet an LPGA (which Patty helped found in 1950). Patty's first professional win was the 1941 Western Women's Open, and that year Bob Hope and Bing Crosby challenged Patty and Babe to an exhibition match. Not surprisingly the ladies won although Bob and Bing were quite good amateur players, in their best years playing to a 4 and and 2 respectively.
In December, Patty was traveling with Helen Dettweiler on the way to Palestine, Texas, when they collided with another car. Patty suffered a compound fraction of the leg and other injuries which were serious enough to take her out of competition for the following year. But she managed to recover and after winning the 1943 Women's Western Open, she enlisted in the Marines. Lieutenant Berg was able to manage a couple of rounds a week to keep in practice, and she did play exhibition matches as part of the Marine Corps recruiting program. But her military duties kept her out of actual tournament play for the duration.
In 1951, Patty, Babe, Betsy Rawls, Peggy Kirk, Betty Jameson, and Betty Bush went to England to play a British men's team led by the dashing Leonard Crawley. Strictly speaking Leonard was a cricketer but he had been on four teams for the Walker Cup and himself had won the 1931 English Amateur. But his pride and joy was his full and well-coiffured mustache which he swore he would shave if the women beat him and his team.
Well, the ladies beat the men, but as far as we can tell, Leonard did not shave his mustache.
Although Patty could hold her own with the lads, she did believe in proper behavior. At a dinner she once found herself part of an unwilling captive audience when she sat at the same table as Sam Snead. Sam, as he usually did, dominated the conversations with an unending string of off-color stories which had ample droppings of the f-bomb. Finally unable to stand Sam's potty mouth, Patty got up and walked out.
Actually, Patty was being pretty patient. Sam's stories could be so foul that even Gene Sarazan - who was himself known to appreciate a ribald tale - would leave the room once Sam began spouting his stories. Sam's penchant was actually one of the reasons why the golfing establishment soured on him personally, and that when he died the tributes were rather sparse - at least compared to his many accomplishments.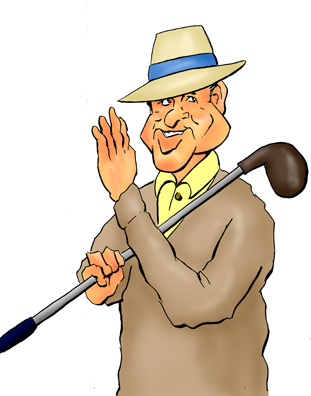 Potty Mouth Sam
In 1952, Patty set a women's world record by shooting a 64 at the Richmond Ladies Open and in 1955 she set another record - in money earned for a woman golfer. Although the total amount - $16,492.34 - seems paltry by today's pro paychecks, it was actually a good salary for the time. On the other hand it was quite a bit less than the men were pulling in - this was the year Julius Boros was the top money winner on the PGA Tour when he made $63,121.55. We also have to remember the figures are total winnings and the players had to pay tour expenses themselves. But then as now endorsements made up a goodly part of the income for the top pros and Patty had a contract with the sporting goods company, Wilson.
Times were different in that less visual age. Although lots of people knew of Patty, surprisingly few had seen her or even one of the typically grainy photos that were common in the newspapers of the time. In January, 1956, Patty appeared on the celebrity panel/quiz show What's My Lines, even today one of the classiest television shows. Although she was an internationally known golfer, the panel didn't have to be blindfolded, although finally Bennet Cerf ended up saying "You look like Patty Berg".
Known for her sunny disposition which some writers have called "bubbly", Patty's last professional tournament - and her last LPGA play - was in 1962 when she was 44. Playing in Muskogee, Oklahoma, the women played from the men's tees in the Civitan Open. Patty shot a 73 on her first day and scored a 290 for the whole tournament.
What was Patty's last professional tournament also became her last professional win. She bested Ruth Jesson and Shirley Englehorn - both in their twenties and no mean players themselves - by two strokes. Although Patty then retired from professional competition, she kept playing exhibition matches, and in 1993, at age 71, she hit a hole in one.
And what of Patty's old teammate on the 50th Street Tigers? Although Charles did briefly - and unsuccessfully - dabble in politics, he did all right in another job.
Women in Golf: The Players, the History, and the Future of the Sport, David Hudson, Praeger, 2007
A to Z of American Women in Sports, Paula Edelson, Facts on File, 2002.
And then Arnie Told Chi-Chi, Don Wade, McGraw-Hill, 1994.
Golf Anecdotes: From the Links of Scotland to Tiger Woods, Robert Sommers, Oxford University Press, 2004.
Golf's Most Wanted: Top 10 Book of Golf's Outrageous Duffers, Deadly Divots, and Other Oddities, Floyd Conner, Potomac Books, 2001.
The Kingdom of Golf in America,Richard Moss, University of Nebraska Press, 2013.
Sam: The One And Only Sam Snead, Al Barkow, Sports Media Group, 2005.
"PGA Tour Yearly Money Leaders", Brent Kelley, About Sports, September 29, 2015.
The Story of Golf in Oklahoma, Del Lemon, University of Oklahoma Press, 2001.
"Patty Berg", Michael Carlson, The Guardian, September 12, 2006.
"I Taught Bud Wilkinson to Play Football", Patty Berg as told to Seth Kantor, Sports Illustrated, pp. 26 - 29, November 8, 1954.