The CooperToons Citizenship Test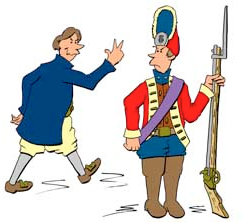 Good Citizenship
There has been a recent push amongst various elected officials that kids should be required to pass the same test taken by naturalized citizens before they can graduate from high school. The CooperToons website heartily endorses this position.
But with the following amendments, of course - with which no True Patriot can disagree:
First, when the kids take the test, all their parents must also take the test. Then the parents must show their scores, not only to their own kids, but to the rest of the kids in the school as well.
Next, all politicians running for office must take the test and post the score online for the pleasure of the whole country!
And to set a good example, the adults - whether parents or politicians and as a proof of their true patriotism - should take the

Official CooperToons Citizenship Test.
As in the US test, there are 100 question of which all true citizens should know.
And
PLEASE! DON'T CHEAT!
Today, of course, you can look up almost anything on the Fount of All Knowledge (i. e., the Internet). But remember,
THIS TEST IS FOR

!!!!!!
And
CHEATING MIGHT MAKE

FALL!!!!!!
So take the
Official CooperToons Citizenship Test
- and
Do it for

!
And you can do that, by clicking here.
Return to Department of Education